eRecruit is MERALCO's online hiring portal, a fully web-enabled system powered by SAP. It provides the following features and benefits to job applicants:
eRecruit keeps resume in centralized talent bank, readily available when search process is initiated by the recruiter.
eRecruit tracks applications and provides feedback to job applicants on the status of application.
eRecruit's online facility allows job applicants mobility; they can apply anytime, anywhere using their mobile device.
1. How do I start using eRecruit?
Using eRecruit is easy, it only requires you to:
Register your contact details and
Create your profile or bio data in the eRecruit talent bank
2. How do I Register in eRecruit?
Inside the careers page of the MERALCO website, look for the logo and click the button.
Note: eRecruit is best viewed using Internet Explorer v10, Google Chrome and Mozilla Firefox
The log on page will be displayed. As a first time user, click "Create Account" link. Fill out contact details.
Registration page will appear. Registration is complete after you click the button.
Expect to receive a confirmation of your registration via your email address. Click on the confirmation link provided on the email, as this completes the registration process. You may now proceed to create your profile in the eRecruit talent bank.
3. How do I Create my profile?
From the MERALCO careers page, click the eRecruit button.
The eRecruit log on page will appear. Sign in your username and password and click the button.
The "My Profile" page will appear. Fill-out the data fields.
After completing your profile, don't forget to click the "Review and Submit" tab. Once profile is reviewed you may now click on the "Complete" button.
Tip: Complete all data fields as this will be the basis for the search and selection process in the talent bank. If required field is not applicable to you, type N/A in the required field to proceed the to the next step.
1. Where can I find job vacancies?
Job vacancies may be viewed from any of these
Careers page in MERALCO website or
Career opportunities page inside your eRecruit profile page
Viewing job vacancies via Careers Page via
Your eRecruit profile page
2. How do I apply for a particular job that I like?
Log on to eRecruit
Click on tab
Search and select the job posting that you are interested to apply.
Click to selected job vacancy.
Answer Questionnaire
Review your profile and complete application by clicking button.
1. How do I check on the status of my application?
In the "Career Opportunities" tab of your eRecruit profile, select "My Applications" to view status of your application.
1. My friend's qualifications may fit a job vacancy I saw. How do I refer this job vacancy to my friend?
In , select the job vacancy posting you want your friend to know about.
Click the button in the job posting overview.
Click the link on the page that wil appear.
eRecruit will automatically provide an email with the link. Type in the email address of your friend and send email.
1. How do I change my User Name?
You can change your User Name by using the Candidate Profile tab in your eRecruit profile.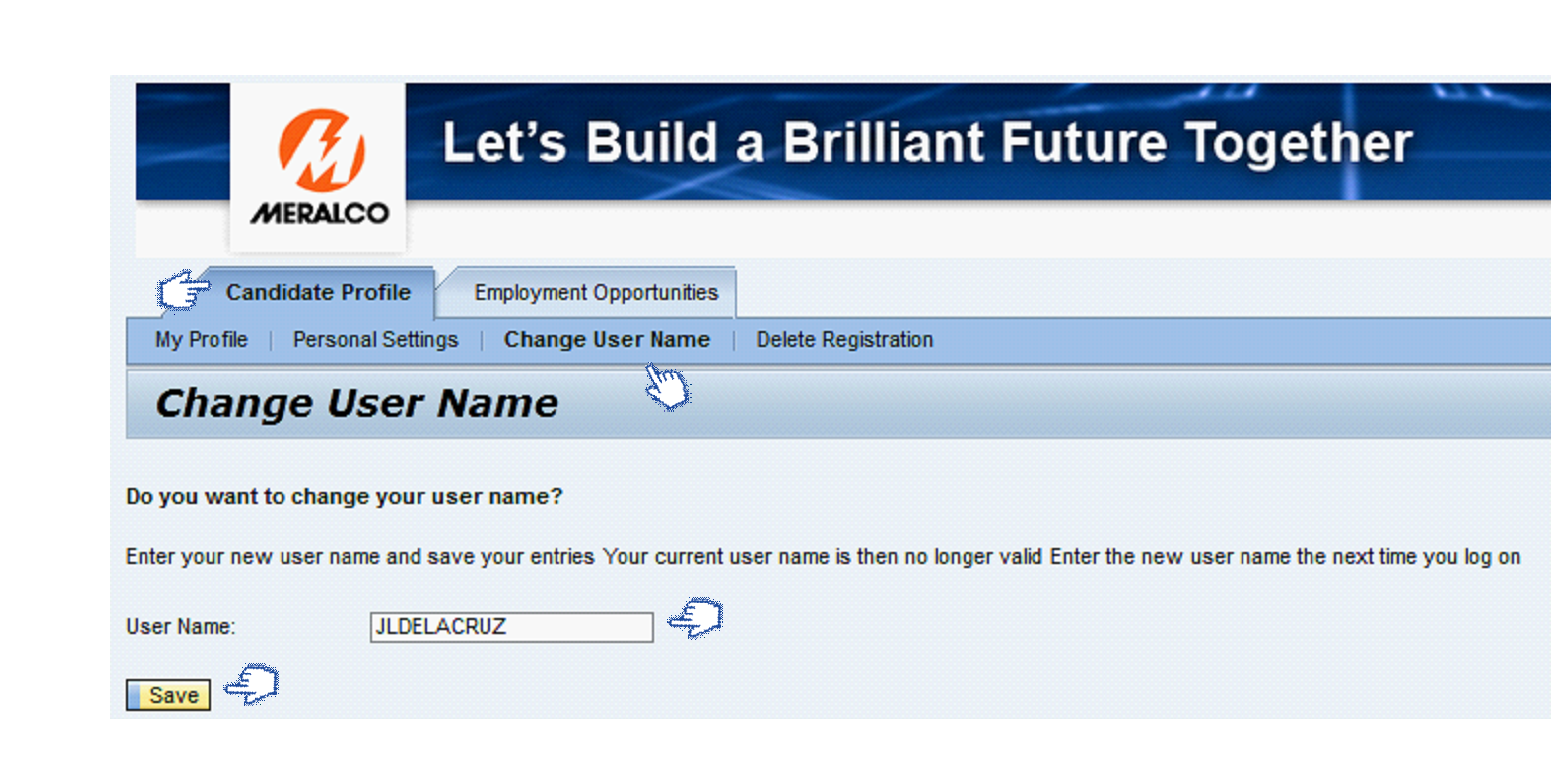 2. How do I change my password?
Sign in Careers page and log on eRecruit page.
Simply click the "Change Password / Forgot Your Password" link.
Enter current password and new password and click "Change" button to complete the process.
3. What do I do if I forgot my password?
From Careers page, go to eRecruit. You will be redirected to the log on page.
Click the "Change Password / Forgot Your Password" link.
Click button after signing in your user name and email in request password page. You will receive an email with subject "Meralco Applicant New Password" shortly thereafter.
Copy password indicated in the email and use this as your password when signing in eRecruit log on page.
4. This prompt message appeared while trying to sign in / register in eRecruit log on page:
If this happens, it only means that you already have an account with eRecruit using the same email address. To resolve, just change your password. Refer to #2 of FAQs to change password.

​5.
Should you need further assistance using eRecruit, email
erecruittechsupport@meralco.com.ph
.